HEALTH & WELLNESS
23 Infused Water Ideas That Will Make You Forget About Soda
Authur: Amy Glander
Tired of plain, boring water? These fruit-infused water ideas are both delicious and refreshing
.
1 / 23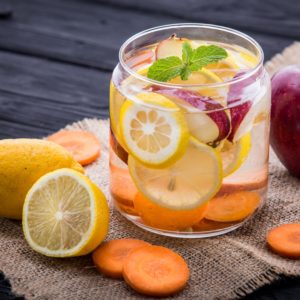 Shutterstock/Odua Images
Apple of My Eye
Ingredients: Apple, Lemon, Carrot
Invigorate the senses with a delicious twist of apple, lemon and carrot.
These 32 light desserts will hit the spot.
2 / 23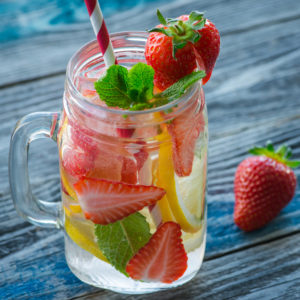 Shutterstock/Room 76
Summer Squeeze
Ingredients: Strawberry, Lemon, Mint
Toast the warm weather with this minty, berry (and sugar-free!) twist on lemonade.
Here are 10 ways to drink more water every day.
3 / 23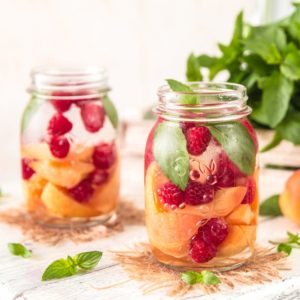 Shutterstock/Katerinina
Sun-Kissed Apricot & Berries
Ingredients: Apricot, Raspberry, Mint
Soak up the sun with a mix of apricots, raspberries and mint.
Don't miss these light summer salad recipes.
4 / 23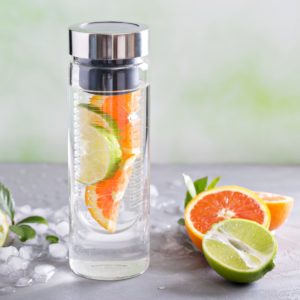 Shutterstock / Elena Veselova
Citrus Burst
Ingredients: Orange, Lime
Enjoy a juicy blend of two Vitamin C superstars—orange and lime.
Snack wisely with these simple and sweet recipes.
5 / 23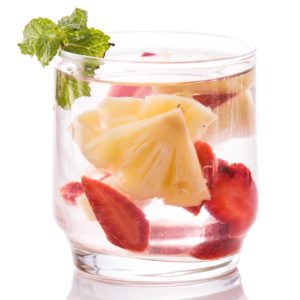 Shutterstock/Odua Images
Pink Hawaiian
Ingredients: Strawberry, Pineapple
Say aloha to a blend of sweet strawberries and juicy island pineapple.
Get more tropical recipes.
6 / 23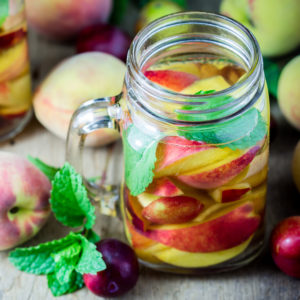 Shutterstock/artpritsadee
Fuzzy Fruit Cooler
Ingredients: Peach, Plum, Mint
Tickle taste buds with a refreshing mix of fruits and herbs.
Psst! Here are the best herbs for your kitchen garden.
7 / 23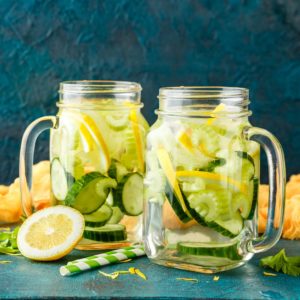 Shutterstock/Irina Burakova
Fresh Rain Water
Ingredients: Cucumber, Lemon, Celery
This cool refresher is as soothing as an afternoon thundershower.
Is your healthy diet making you consumer too much salt? Find out.
8 / 23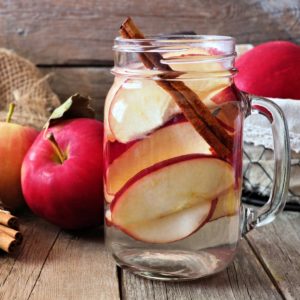 Shutterstock/JeniFoto
Cinna-Sparkle
Ingredients: Apple, Cinnamon Stick, Red Pear
Just like those little red cinnamon-flavored candies, this spicy-sweet mix delivers a kaboom in every sip.
Psst! We've rounded up the best ways to cook with cinnamon.
9 / 23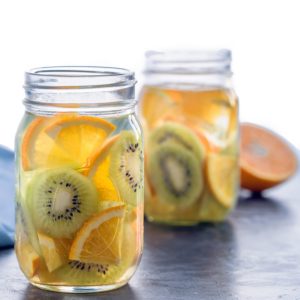 Shutterstock/ Ievgeniia Maslovska
Life's a Breeze
Ingredients: Kiwi, Orange
This blend of kiwi and orange is as refreshing as a cool breeze on a sweltering day.
We've ranked the 25 most iconic summer recipes.
10 / 23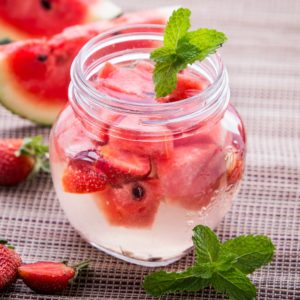 Shutterstock/Odua Images
Melon-Berry Bliss
Ingredients: Watermelon, Strawberries
Beat the heat with a fresh mix of juicy watermelon and sweet strawberries.
Try these super-refreshing watermelon recipes.
11 / 23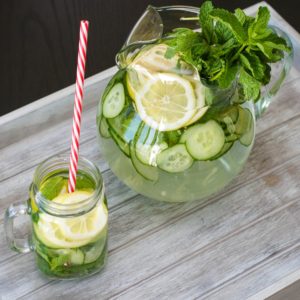 Shutterstock/dashkin14
Ginger Rush
Ingredients: Lemon, Mint, Ginger, Cucumber
Exotic ginger is married with subtle flavors for a hydrator that's both invigorating and refreshing.
Can't get enough ginger? Try our big soft ginger cookies.
12 / 23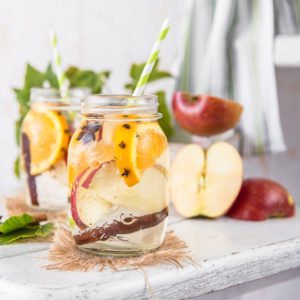 Shutterstock/Katerinina
Apple Cider Sipper
Ingredients: Apple, Orange, Cinnamon, Clove
All your apple cider dreams come true in one icy, spicy blend.
Save this warmed up version for fall!
13 / 23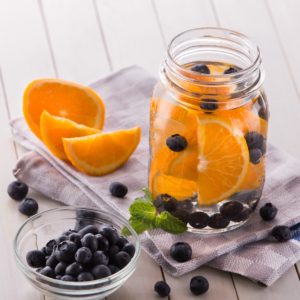 Shutterstock / Odua Images
Blue Crush
Ingredients: Orange, Blueberry, Mint
Catch a wave with a blend of blueberries, orange and mint.
You're probably not drinking enough water each day. Here's why.
14 / 23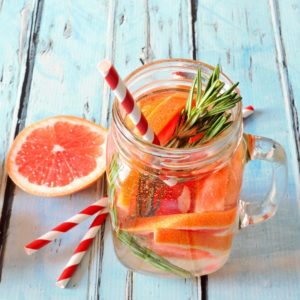 Shutterstock/JeniFoto
Juicy Citrus Herb
Ingredients: Grapefruit, Rosemary
Enjoy this bright blend of sweet-tart grapefruit and a hint a woodsy rosemary.
Stay healthy with this 7-day no-sugar meal plan you can totally get through.
15 / 23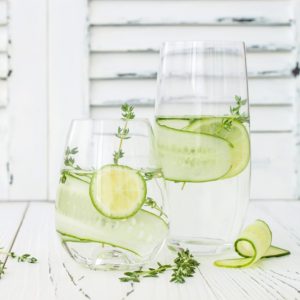 Shutterstock/zarzamora
Green Goddess
Ingredients: Cucumber, Thyme, Lime
Soothe the soul with refreshing cucumber, minty thyme and a burst of lime.
There are a few surprising benefits of drinking plain hot water, too.
16 / 23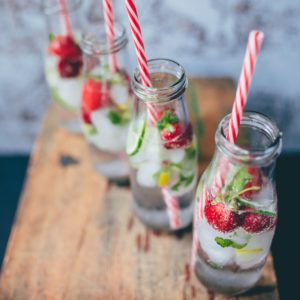 Shutterstock/Svitlana Pimenov
Color Me Happy
Ingredients: Strawberry, Lime
A little sweet, a little sour, a little perfect. Ok, a lot perfect.
Try these 52 ways to eat the rainbow.
17 / 23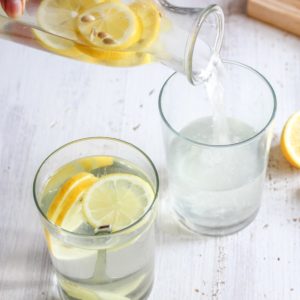 Shutterstock/Siim79
Lemony Burst
Ingredients: Lemon, Ginger
This tantalizing mix of zesty lemon and vibrant ginger will keep you energized all day long.
Here's what a water sommelier has to say about bottled waters.
18 / 23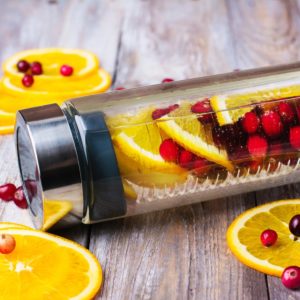 Shutterstock/Ekaterina Markelova
Scarlett Kiss
Ingredients: Cranberry, Orange
As pretty as a summer sunset, this cran-orange drink will make you swoon.
These cranberry recipes will brighten up your plate.
19 / 23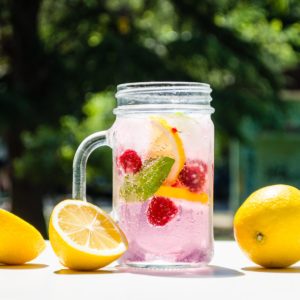 Shutterstock/Bojanche Stojchevski
Fresh Raspberry Rumble
Ingredients: Lemon, Raspberry, Mint
Take taste buds on a joy ride with a mix of lemon, berries and a touch of mint.
This is the single best way to clean any water bottle.
20 / 23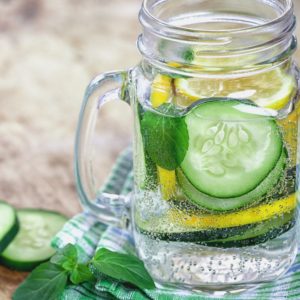 Shutterstock/circlePS
Cool-Off Crusher
Ingredients: Cucumber, Lemon
Quench your thirst with refreshing cucumber and a burst of lemon.
Craving a little something sweet? Try these light chocolate desserts.
21 / 23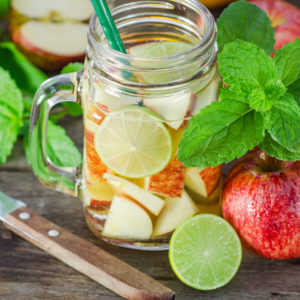 Shutterstock/artpritsadee
Apple Orchard Splash
Ingredients: Apple, Mint, Lime
You've got it made in the shade with this tangy, fruity sipper.
Try our absolute favorite apple recipes.
22 / 23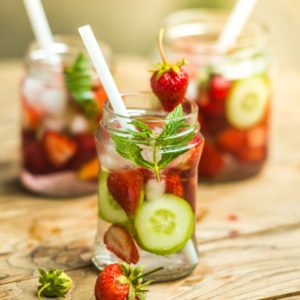 Shutterstock/Yulia Grigoryeva
Strawberry Smooch
Ingredients: Strawberry, Cucumber, Mint
Pucker up for sweet strawberries blended with fresh cucumbers and mint.
Get your strawberry fix in with these desserts.
23 / 23


Shutterstock/Rimma Bondarenko
Minty Monsoon
Ingredients: Mint, Cucumber, Lemon
A delicious twist of flavors for a drink that's both refreshing and restorative.
Sweeten the deal with these non-alcoholic party drink ideas.
* Original Article from "www.tasteofhome.com"
---
Let's continue the conversation
Fill out below